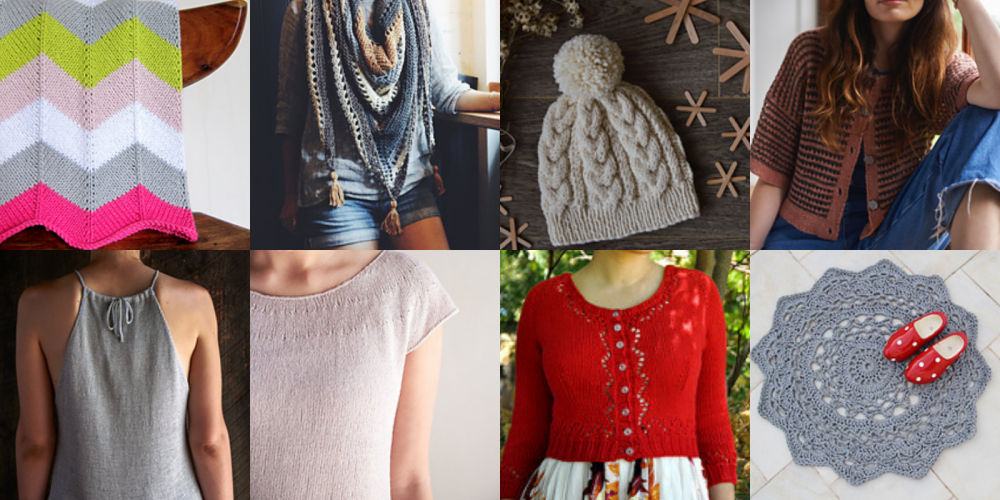 Planned Projects
My Ravelry queue has always been more of a wishlist rather than an actual to-do list. Even up to now there are around 30+ projects in it but I've recently decided that I need to prioritize. I'm not really sure if I'll be able to complete all these, but here are my top 5 picks:
Pattern Description:

We modified our Chevron Colour-Block Blanket to create this simple and modern baby blanket using Blue Sky Alpacas Worsted Cotton. This cheerful two-row pattern is easy to customize in terms of size with the addition of 24-stitch repeats. Use our suggested girl / boy colour palettes or be creative!

This is a blanket that I'll do for a Knit Along (KAL) that I've decided to join. The KAL deadline is on June and I think I have enough time to complete it. I'm thinking of making a blanket big enough for our bed instead of a baby-sized one as we currently don't have a baby.

Yarn I'll be using: Dapper Dreamer Combed Cotton from Gantsilyo Guru

Pattern Description:

Whether you're warming up to a hot cup of joe or popping in to cool off with an iced coffee, the Coffee Shop Wrap has you covered - literally. The cooling cotton won't overheat you but the enveloping size and triangle shape is the perfect light layer for an air conditioned space. Wear it wrapped like a scarf in front or draped over your shoulders for two different looks.

I ordered more yarn than I needed for the blanket. I plan to use the leftover yarns for this cozy wrap. Actually copied the exact color scheme as well. It's very hipster looking. Haha.

Wearables are my top priority when knitting. I want to knit something that I can actually use. This top looks classy and I can use it here.

Yarn I'll be using: Milk Cashmere from The Attic Yarn and Craftery

Another top that I also adore. This looks more challenging the top above but I think I'm ready for it. I have no specific yarn in mind for this, but I have a few lace weight yarns that I can choose from.

Pattern Description:

Miette is a cropped cardigan with 3/4 sleeves and eyelet details. It's perfect to wear over summer dresses to extend their life from late spring to early fall. The stockinette body makes the knitting almost mindless, but the scalloping eyelets keep things interesting. The cardigan's seamless top down construction allows you to try it on as you go so you get the perfect fit.

This has been in my queue for what feels like forever and I think I'm up to the challenge. Hopefully. I plan to knit this using this nice white linen blend yarn from Ice Yarns. I don't have a white cardigan and I hope this becomes a wardrobe staple.

Yarn I'll be using: Ice Yarn Sale Summer Linen Blend from Yarn Garden

Pattern Description:

This relaxed, drop-shoulder cardigan is knitted flat from the bottom up. Front and back are separated at the armholes and each section knitted back and forth before seaming at the shoulders. Sleeve stitches are picked up around the armhole and knitted in the round, ending with the cuff. Neckband and button band are picked up and knitted in Moss Stitch. Recommended to be worn with 6 - 8 inches of positive ease.

Another challenging cardigan on this list. I'm planning to do the cropped version in the same color as the model photo. I know I have no originality whatsoever but that looks so lovely already.
For when I travel
My husband and I are planning on traveling to some very cold countries before the year ends. I'm actually really excited to knit our "winter wear". I have no definite plans yet, but here are some patterns that caught my eye.
Wishlist
Here are some patterns that are actual wishlist items. These patterns and paid and I think I need to build up my knitting skills before I even attempt these. Maybe for next year?